Everyone knows that we love love love street art at Aliveasart. Whether it's painted graffiti, stills in animation, or wacky window installations, street art makes us happy, and we know it makes you happy, too. Today we are putting a spin on our traditional definition of this genre, and paying homage to some fantastic examples of light graffiti. If you have never seen this type of art before, get excited. It's a lot of fun.
Light graffiti is an photographic technique that involves light source manipulation and time lapse settings. It is typically done by professional photographers, at night on streets or inside darkrooms. Here is a sampling of some of our favorite light graffiti photographs. Give them a look-see, and let us know what you think! In case you want to achieve these effects in your own photographs, here's how:
Set your camera on a tripod and take a sample test shot with flash, lights on.
Set your exposure to a relatively long value, and stop down the aperture as much as you need.
If you are inside, turn off the lights.
Click!
Once the shutter is open, use a flashlight as brush, and illuminate the areas you want to paint. Slow movements will produce more light, while faster ones will create refined details.
Once the shutter closes, inspect your image and make edits as necessary.
Paul Excoff is a 16 year old French-American kid, who describes himself as a "rampaging vegetarian, social democrat environmentalist." I am not exactly sure what that means, but I do know that I love his work with light graffiti. Excoff is a pretty interesting guy. I am looking forward to seeing more of his work in the future.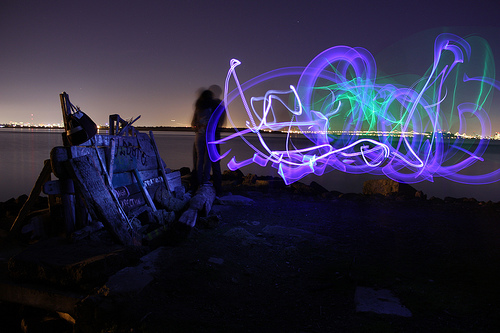 2

Recycle Bean

Recycle Bean is a photographer based in Istanbul, Turkey. I wasn't able to find much background information on him, but I fell in love with this striking image and couldn't go without sharing it. The line detailing in this photograph is impressive in itself, but the lighting and color composition send it over the edge, in my opinion.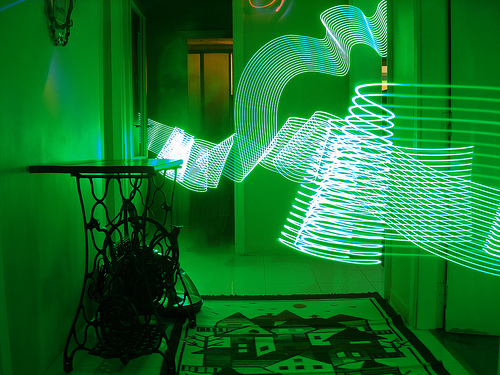 3

Rafoto

Now it's time to have some fun.  Aliveasart readers, meet Rafoto. Once again, it was tough luck getting biographical information on this photographer. I just love these stick figure men, though! They remind me of the little guy in the this animation by Ryan Cashman that we featured last week.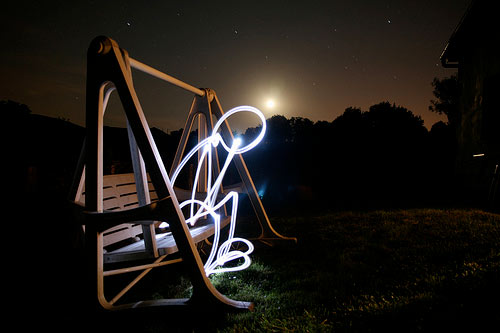 I really should have done a full write-up on this one, but perhaps I'll leave that for another day. If you aren't already familiar with his work, Taylor Pemberton is multi-disciplinary designer based in Minneapolis, Minnesota. His specialties include graphic design, typography, photography, web design, promotional design, advertising design, and branding. Here is a gem from Pemberton's light graffiti compilation at one of my favorite sites, the Behance Network. I think he is crazy good.